Destinos

Worldwide Holiday
Destinos Worldwide is the pristine outbound destination management brand of Destinos India Gurus Private Limited. Founded by renowned foremost industry veterans from various tourism sectors, Destinos Worldwide is recognised for providing personalised travel experiences for solo travellers, honeymoon travellers, families, leisure travellers, business travellers, golf travellers and corporate groups all across India and abroad. All the directors of Destinos Worldwide are nurturing this New Delhi based business unit with their over 200 years of combined experience, knowledge and significant talents of Destination Management Company industry. With the long-experienced professional career, business networking with all local and overseas hotels, airlines, private jets and helicopters, cruises, foreign exchange services, overseas travel insurance and visa assistance Destinos Worldwide is one of the leading completely insured DMCs of India. Also, KTC India – the transport company of Destinos Worldwide owns and operates the largest fleet of luxury cars and coaches in India.
At present, moreover, 1,200,000 domestic and international travellers have travelled and explored the world with us.
Services:
Destinos Worldwide holiday specialists would be happy to assist you with the following services:
International & Domestic Hotel Bookings
International & Domestic Car Rentals
Domestic Personalised Holidays
International Personalised Holidays
Personalised themed holidays (wildlife, culinary, honeymoon, adventure etc.)
International and Domestic Group Holidays
Cruise Holidays
Golf Holidays
MICE
Private jets & Helicopter services
Travel Insurance
Visa services
FOREX services
And many more
---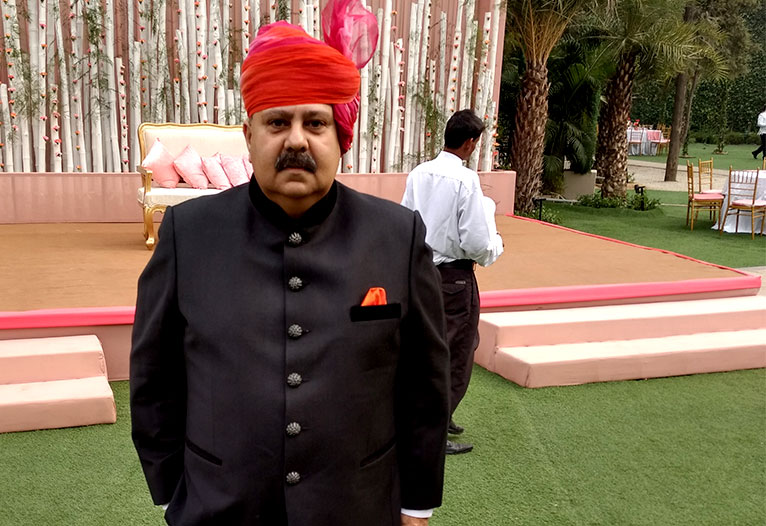 Randhir
Brar
Three words to describe Randhir: STRATEGIC, PERSONABLE, PERCEPTIVE
A Commerce graduate from Delhi University, Randhir joined the travel industry as a Executive trainee with Mercury Travels in 1981. Diploma holder in Tourism from The Delhi Institute of Management & Services, he was awarded a scholarship to the Executive Development Institute for Tourism (EDIT), at the School of Travel Industry Management, University of Hawaii, USA.
In 1991, he partnered in his travel agency which provided complete travel solutions catering to Inbound, Outbound, Corporate and Leisure tourism segments. The agency was a member of IATA Travel and IATA Cargo & PATA.
In 2001, Randhir decided to return to the main stream by joining SITA World Travel as Head of Marketing in New Delhi. He was also head of the office in in Nepal & also Heading Western Union Money transfer franchise business based in Nepal for a period of two years. He was awarded by Western Union for his achievements as Star of the region for South Asia.
Later he joined Le Passage to India & was involved in Purchase & contracting, followed by Strategic Planning and development. He was also responsible to look after the company Joint Ventures in Nepal and Bhutan based out of India.
His key responsibility area includes developing and strengthening JV partnerships, strategic planning, business development as well as contracting. He has worked with industry associations and stakeholders addressing the concerns of the industry and identified areas where partnerships could be forged between the government and private sector towards mutual benefit. He has also been able to multitask and be part of many project teams
A avid Golfer, Randhir has played the leading Indian PRO AM Golf tournaments & also at Golf courses in most leading Golf destinations such as Spain, Portugal, Italy, Germany, Hungary, China, Malaysia, Singapore, Thailand, Indonesia, etc. His strength lies in developing the market for niche segments including MICE and golf tourism and creation of Tourism brands
Widely traveled he has attended all major Travel fairs such as ITB,WTM, ATM, BIT, PATA, IGTM etc & represented the industry platforms of WTTCII, IATO,PATA, CII and FICCI etc, He has been a speaker at many conclaves and tourism functions.
His motto in life is ' Innovate ' you don't have growth if you don't. You have to Think out of the box and venture outside your boundaries. That's what life's all about.
---
Sanjay
Malhotra
Three words to describe Sanjay: PERCEPTIVE, INNOVATIVE, PERSONABLE
Sanjay began his foray into the hospitality, meeting & event planning world with over 30 years' experience in sales & operations. With his creative and strategic mind, he has consistently surpassed his goals and cultivated long lasting relationships with his clients. He approaches each business day with enthusiasm and positivity for his job and work environment. Sanjay's personality and creativity enable him to exceed his clients' goals by crafting and executing the perfect program. Sanjay's continuously seeks out new, innovative approaches that can dynamically enhance the programme. He prides himself on going the extra mile to make events extra special, and takes pleasure in ensuring exceptional experiences which guests appreciate and remember.
With his positive attitude, creative flair and commitment to the highest level of quality service, Sanjay's involvement in the programmes from inception to completion ensures 100% satisfaction to the client.
Sanjay is passionate about the mountains. Outside of the office, he enjoys traveling and spending time with family. He is married to Kushla and is the very proud father of their daughters, Manvi and Tanvi.
His motto is to do everything absolutely flat out and to the best of your ability.