Destinos

Worldwide Holiday
Sailing
With three tropical seas and a vast coastline, the seas of Oman offer sailors a lot of variety. From the forested mountain slopes of southern Oman's coastline, to the extraordinary 'fjords' in the Musandam Peninsula, each creates a stunning backdrop to sail along or anchor beside. Under the waters, corals harbour brilliant tropical fish, while sightings of dolphin and whales are common and at night your boat may be encircled by glowing phosphorescence caused by the organisms in the rich seawaters. Muscat, with its major leisure oriented port of Mina Sultan Qaboos as well as several commercial marinas make an ideal base from where to venture north towards Khasab or south towards Salalah.
FishingWith
Rich tropical waters often offer fishing opportunities but few can offer the breadth and size of the game fish in Oman. Haul up giant Sailfish, enormous Marlin, or huge Yellowfin Tuna for a battle that you will remember. Off the beach or cliffs the fish may be small, but skill and patience might be rewarded with Hamour (Grouper) or Mullet. Drop a line in Oman and see what comes up.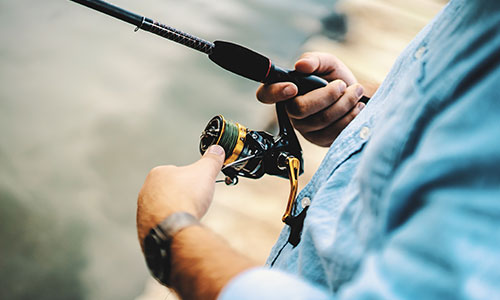 Diving
Tropical seas and rocky coastlines alongside several deserted islands give Oman a range of Scuba Diving locations to suit every one. Dive along Kelp and Coral (at the same dive spot); cruise along with Whale Sharks or even experience great drop offs of up to 40m in depth in an uncrowded sea. Professional dive operators can supply all your gear for you.
Kayaking
The marine straits and extensive coastline offer up the perfect choice of locations to enjoy kayaking; with beautiful coastal scenery throughout the year. You can take advantage of the easily predictable weather, near year-round sun shine, and mostly gentle sea breezes. Offshore islands and cliffs are also home to various species of nesting birds, while the waters themselves are home to dolphins and turtles. If getting out on the ocean interest you, kayaking off the shore of Oman is definitely a must when you next visit.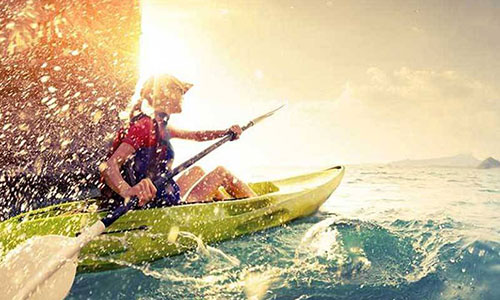 Camping
Take a break from traditional accommodation and escape to Oman's vast, uninhabited interior. Your venue might be the sands of one of Oman's deserts, up the Al Hajar Mountains, or even the coast of one of Oman's three seas. Wherever you choose to pitch your tent, an unforgettable experience awaits.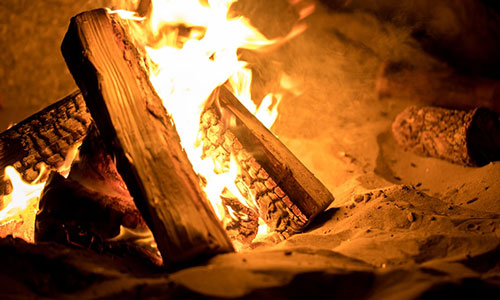 Hiking
Oman offers a trekking experience to suit all skill levels, ranging from simple quick treks that can take about an hour or two, to more gruelling ones that can take upwards of a few days. And the scenery on each of these treks is just as diverse. In southern Oman, the undulating hills of Jabal Qara contrast the deep Wadis that cut through Jabal Samhan. Many paths have been created here by livestock as they graze during the day. Oman's mountains, which run in a great arc north from Sur include several trans mountain treks that can take up to several days, taking you from the sea to the desert with ancient routes rising from the plains up to the high plateaus. In the mountains around Muscat, shorter mountain treks can be taken which provide superb views of the land and sea.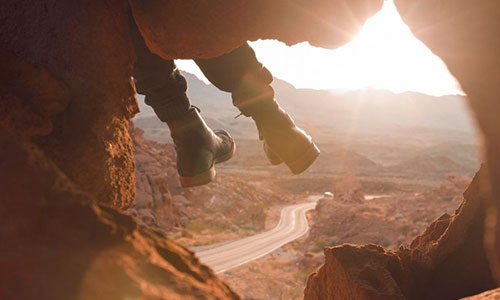 Horse Racing
The finest purebred Arabian horses and the western hybrid race horses compete in races throughout the winter months, primarily at race tracks located in the Wilayat of Seeb and Barka. As part of the activities, separate races may be held for purebred Arabian horses and for hybrid horses. Elsewhere, events may include traditional races where horses are decorated with Omani silver, which adds a beautiful sound when the horse runs. Joining the crowds at these stunning events make for truly amazing photo opportunities.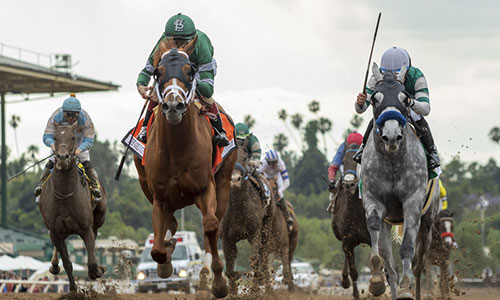 Camel Riding
The Arabian-Omani camel is characterised by its gentle swaying walk, adding to the unique look of the desert dunes where they reside. A simple camel ride, regardless of how short or long it may be, will allow you to experience the life of famous British traveler 'Wilfred Thesiger' in the Arabian Desert. Hold tight when the camel starts to stand up, pushing you backwards, then forwards, and then back again before it starts to walk slowly. And don't forget to take a selfie from above the back of the camel.
Caving
It's a hidden world well worth exploring and an adventure that must be made if you ever have an opportunity to visit one of Oman's limestone caves. Spelunking (exploring caves) is growing in popularity and, with some stunning caves full of stalactites, stalagmites, flow stones and more, it's easy to understand why. In the Eastern Hajars, the Salmah Plateau cave system is the longest in Oman with around 11.5 kilometres of passages and several upper entrances requiring you to rappel down more than 100 meters. Majlis Al Jinn is a vast cavern accessed through its roof by a rappel of over 150 meters into a world where the small roof top entrances give the effect of spotlights as the sun tracks over the sky. Note that for safety reasons, Majlis Al Jinn requires special permission to enter. In the same mountain range the Muqal Cave in Wadi Bani Khalid is nestled in an under hang on the valley wall, this is readily accessible and with torches the cave forms can be explored. Perhaps the most famous in Oman, the Hoota Caves boast a spectacular range of stalactites, stalagmites, flowstones, and soda straws. Visitors can also discover the caves own vast underground lake, which is home to blind cave fish.
Mountain Biking
You can follow the tracks of the winners of the Tour de France and Tour of Oman, surrounded by the country's dramatic scenery. Choose a short route around Muscat and other towns or a more adventurous climb over some of the country's -2,000meter high mountain tracks. Regardless of what you choose, you are sure to find something captivating at every turn.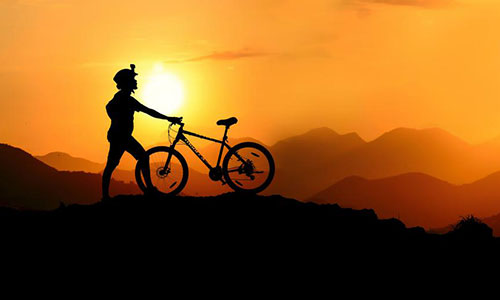 Via Ferrata
Ascending the almost kilometre high sheer southern cliff face of Jebel Misht is one of Arabia's most spectacular mountain climbs. Oman, with its limestone mountain ranges cut through with deep narrow canyons offers an extraordinary variety of mountaineering experiences. Canyoneering through valleys like Snake Canyon; take a Via ferrata across a gorge, or visit some of the vast rocks which have crashed down into a valley floor. Experienced mountaineering tour companies in Oman will safely ensure your thrills.
Sand Boarding
Deep in the heart of the desert, sand boarding is quite possible and is a truly unique experience. Snap on a mono sand board and launch yourself down one of Oman's golden dune slopes. Feel an adrenaline rush as you pick up speed sliding down the slopes of sand dunes while trying out various stunts that are sure to impress and with soft sand to cushion any mishaps. This is a sport that should not be missed when you are in Oman.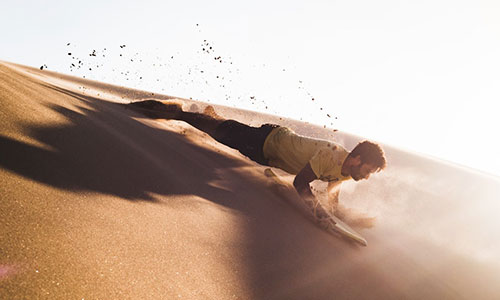 Whale Watching
Oman's seas are home to 20 different species of whales and dolphins, making it an important area for roughly 25% of the world's population of these mammals. From bottle nosed and spinner dolphins, killer whales and on to blue whales, the majestic mammals are drawn close to Oman's coast by the richness of the feeding grounds. Take an organised trip to the sea from Khasab, Muscat or Salalah and a sighting is often made within moments. Perhaps the dolphins are watching you as they frolic alongside the boat, or you may sight a humpback whale coming up for air on the horizon. Dolphin and whale watching is really a 'must do' activity when in Oman. Who knows, perhaps you'll get close to some of the biggest animals on the planet.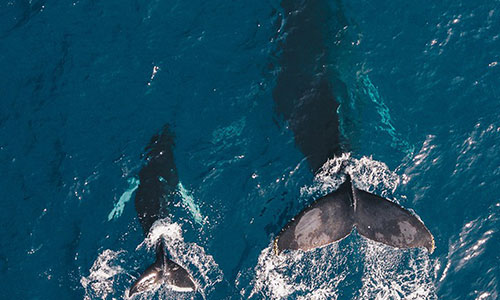 Wildlife SpottingOman's
Just before dawn, the nesting green turtles at Ras al Jinz slowly drag themselves back to the safety of the sea after a night spent laying eggs in the sandy beach. These turtles are a protected species as one of the five types of sea turtle that can be found nesting in Oman. Moving inland, you can arrange to view the Arabian oryx who are found in a wildlife reserve set within a vast plain. The more dedicated wildlife spotter may be lucky to the Arabian gazelle in the low hills throughout Oman or the Nubian ibex in the southern region. Sighting the more elusive animals, such as the Arabian wolf or tahr is possible when accompanied by an expert guide.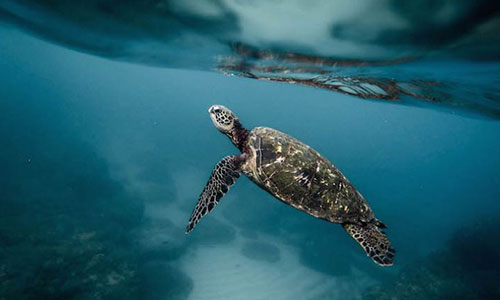 Bird Watching
From the endemic Omani owl (Strix omanensis) to the widespread peregrine falcon, Oman is home to an extraordinary variety of birds. If you stay long enough, around 500 species of birds await your discovery. Some, like the crab plover, can only be found along the shores of Oman's more remote coastlines; while others, like sunbirds, can be found glittering throughout the entire country. A day or a few weeks, whatever your time, Oman offers some truly exceptional bird watching opportunities.
Shopping
Simple traditional markets, such as Muttrah's famous covered souq create an atmosphere that is uniquely Omani. For major brand names choose to shop in the larger malls, who also offer food courts and cinemas. Many of the medium size malls include shops and businesses, which are new to the region and offer the chance to choose a fresh style. However for quintessentially Omani products, search out the often overlooked small shops in traditional souqs. Here you often can learn first-hand about their history and perhaps meet the creator of the product at work.